The implementation of the Merdeka Belajar  – Kampus Merdeka (MBKM)  is carried out by preparing a curriculum as a forum for recognizing independent student learning/activities/activities. Freedom of learning/activities/activities will be arranged in accordance with the promised Learning Outcomes.
The MBKM Curriculum Scheme in the Industrial Engineering Undergraduate Study Program is as follows:

In the 3 and 4 learning years, there are non-core courses (BKSTI Core Curriculum) that can be used as recognition of learning/activities/activities related to MBKM.
List of Non-Core Industrial Engineering Courses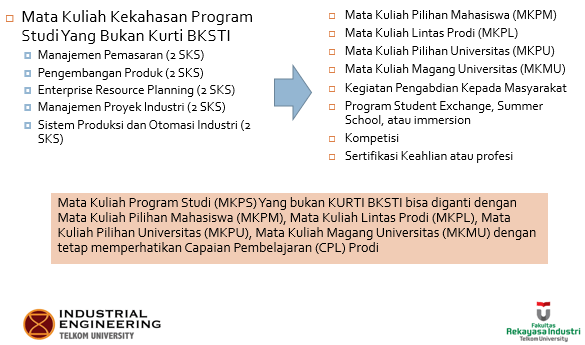 Recognition Scheme of Learning/Activities/Student Activities with Specialization Courses